Before there were words, before symbols gave rise to written language, there were stories. Tales that regaled the sacred knowledge that begot religions. Legends of our origins, of battles between gods and demons, of kings and heroes who upheld virtue against the forces of evil. These most ancient of stories, retold time and time again have transcended human history. And while most have been forgotten, there are still those who seek to preserve them.
Ki Seno Nugroho, a shadow puppeteer known as a dalang, reaches beside him into an immense wooden chest called the cempala. He pulls out an intricately designed leather puppet and stabs the pointed handle into the banana tree trunk mounted before him. The character is Arjuna, the beloved warrior king from the Mahabharata. Up goes his thin leather arms in reverence to the heavenly realm. The dalang speaks in ancient Javanese as the shadows begin to tell the story…
...Of the Wayang Kulit.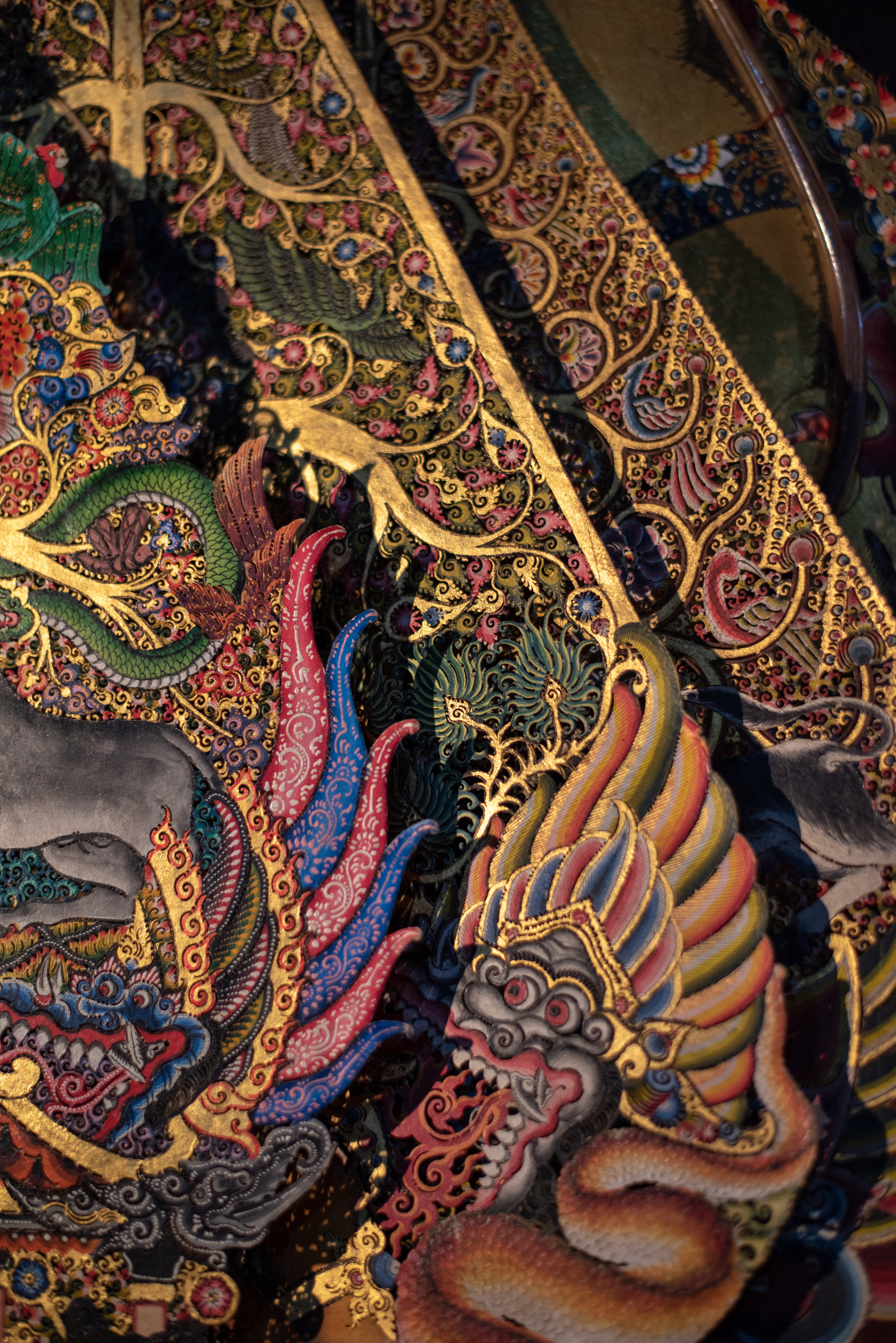 Ornate hand-painted shadow puppets known as Gunungan
Ki Senu Nugruho sits back stage with his orchestra before they begin their performance.
Recently crafted gamelan gong perched on a bench
Ki Seno breathes smoke moments before he begins his performance
Ki Seno and his singers begin their all night performance
Ki Seno enjoys a quiet moment before another performance
The Wayang Kulit shadow puppets tell a story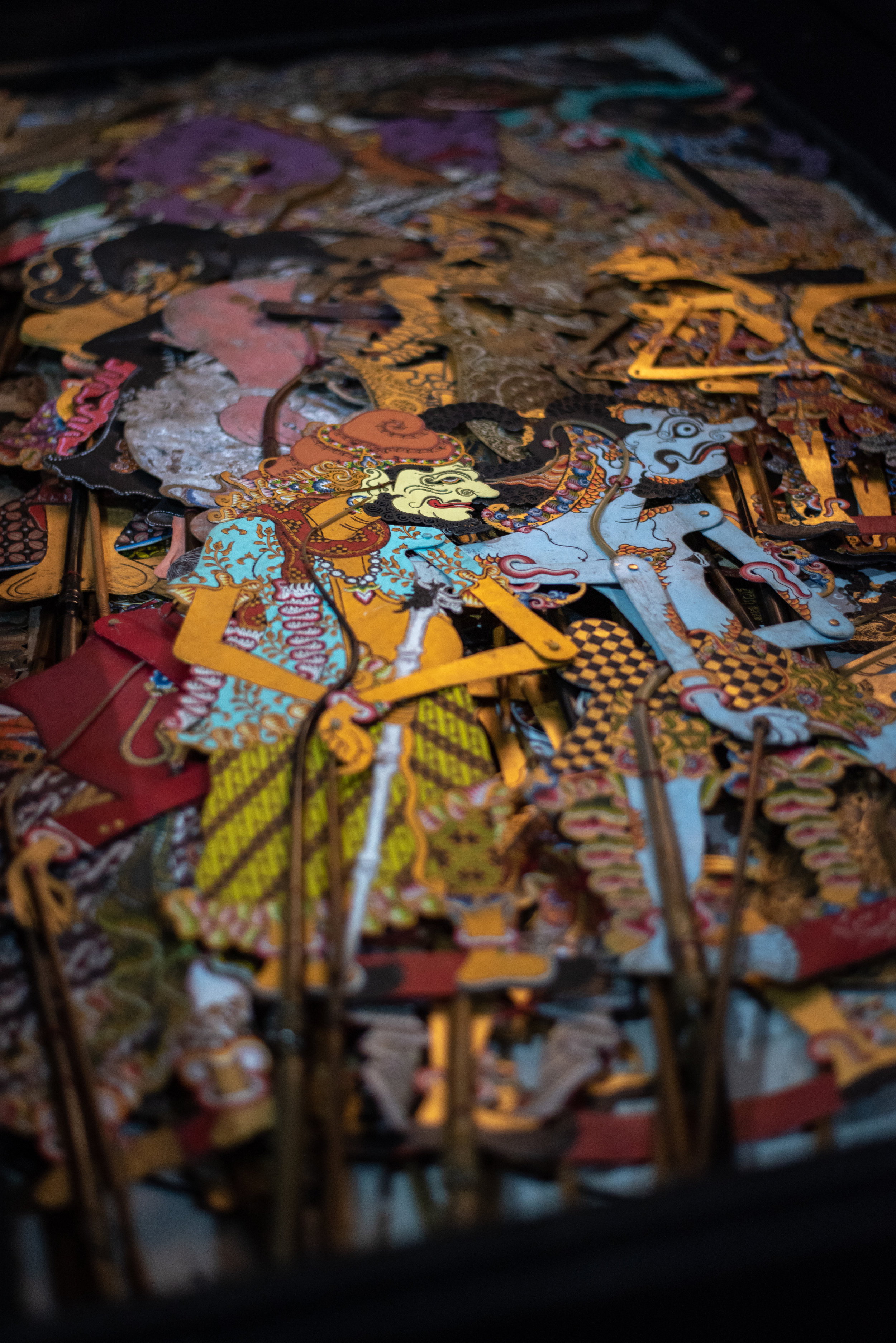 Shadow puppets stacked in the cempala (large wooden chest)
Dhidot plays the gamelan while his wife relaxes in the back ground
Gong being forged in fire
Village gathers to watch the Wayang Kulit performance
Gamelan manufacturers preparing orders
Leather hides (usually cow) that will eventually become shadow puppets
An array of shadow puppets strategically laid out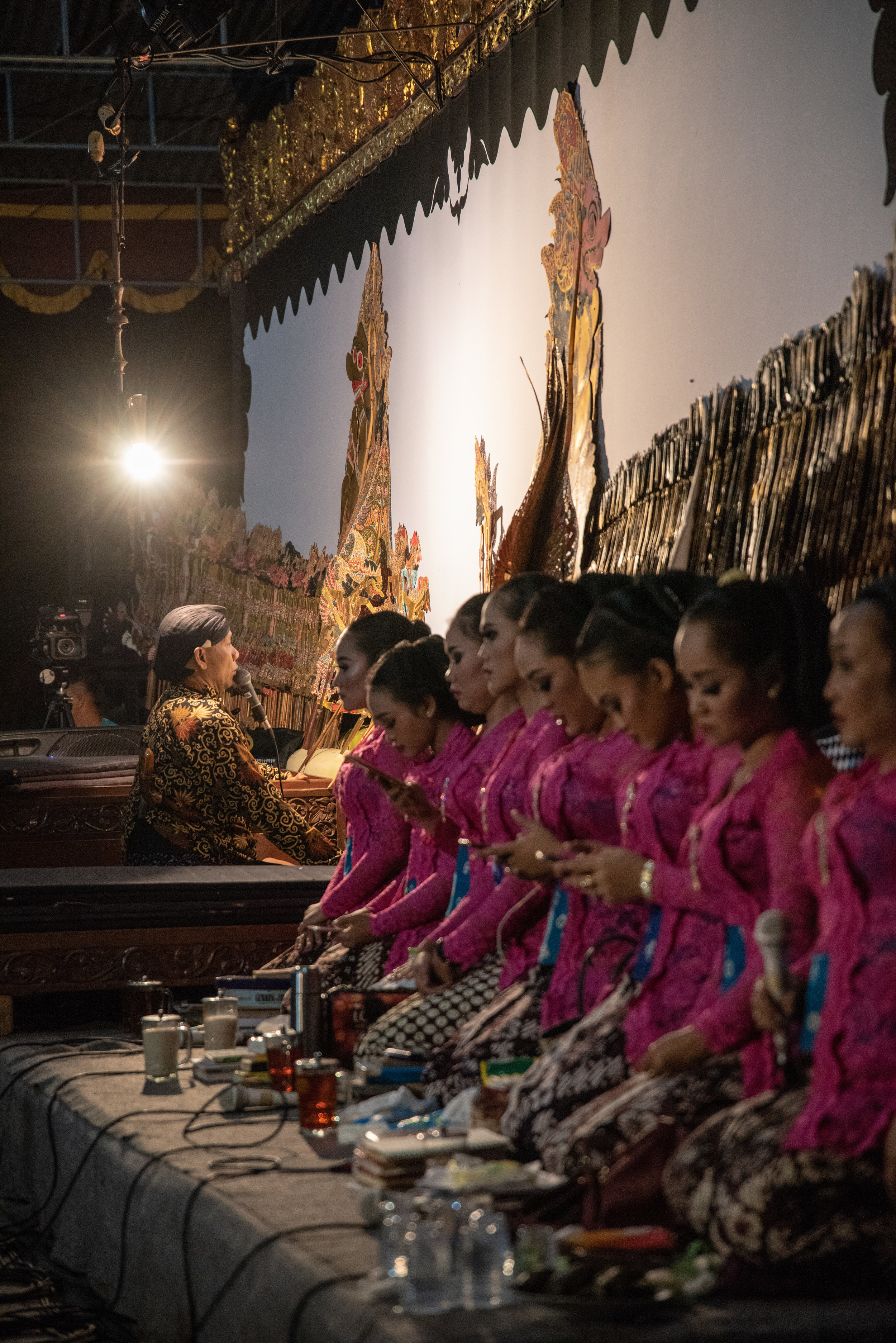 Dhidot, a shadow puppet maker, meticulously hammers designs into a new puppet
Dhidot paints a new puppet
Performers relax before the show begins
Ki Seno enjoys some banter with his companions
Gamelan keys being forged
Ki Seno begins his opening chant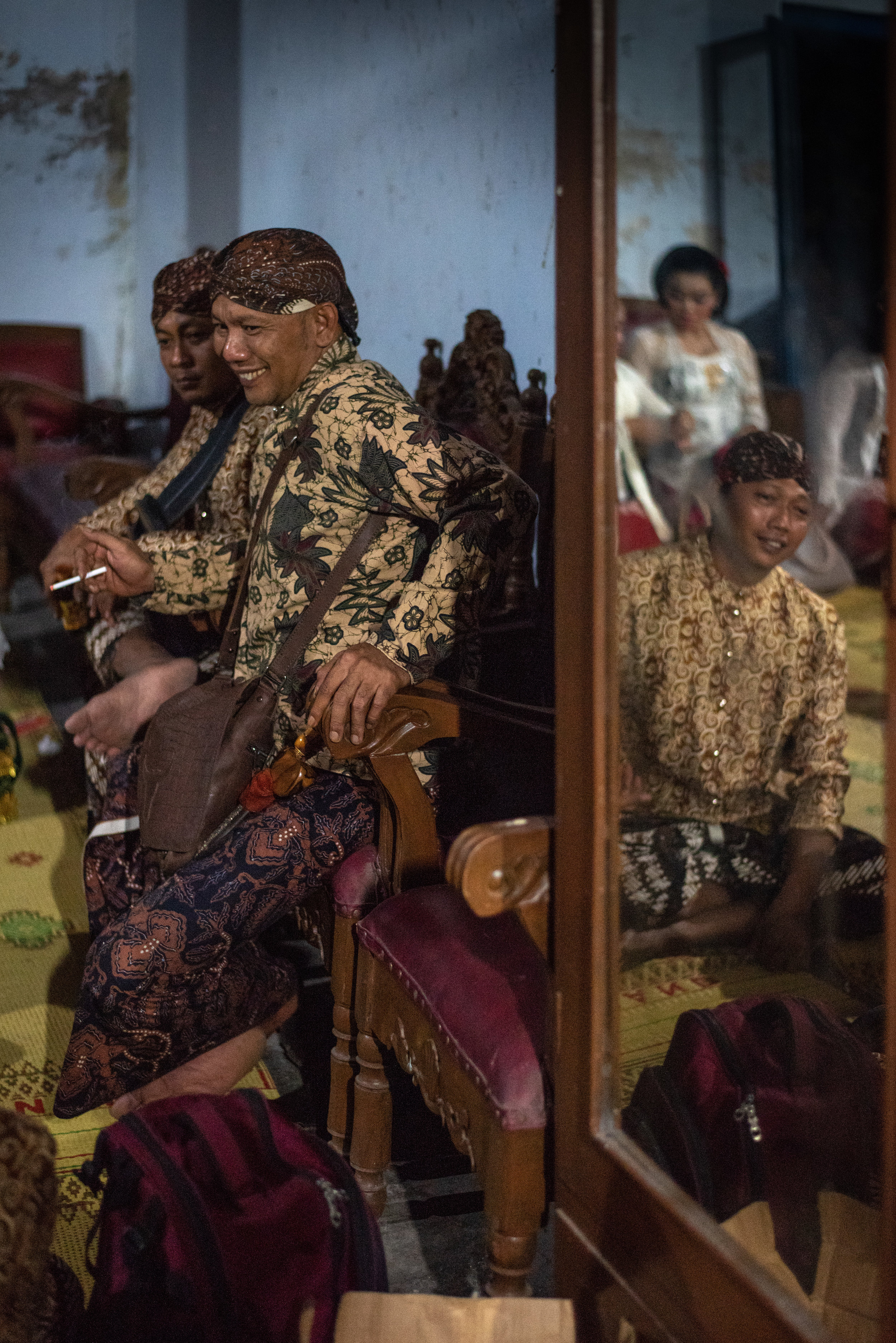 More camaraderie among the performers
Crowd in Bantul enjoys the performance
Father and child enjoy the local Wayang Kulit performance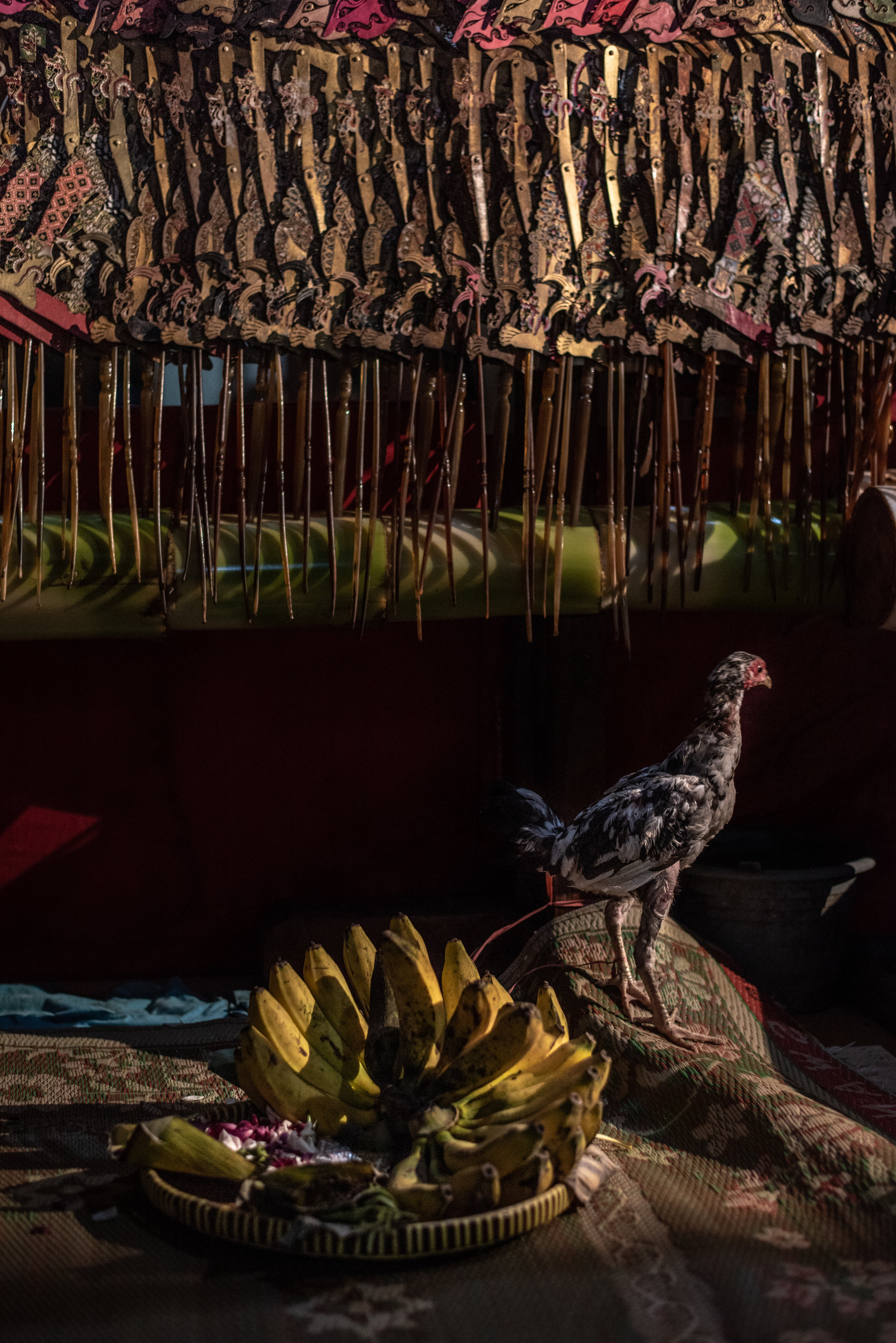 The chicken and fruit represent Sajen, a gift offering to the spirits
Gamelan makers in Yogyakarta
Large gamelan gong is carefully polished
Gong is hammered by a team of blacksmiths
Gamelan maker prepares the zinc and iron ore for melting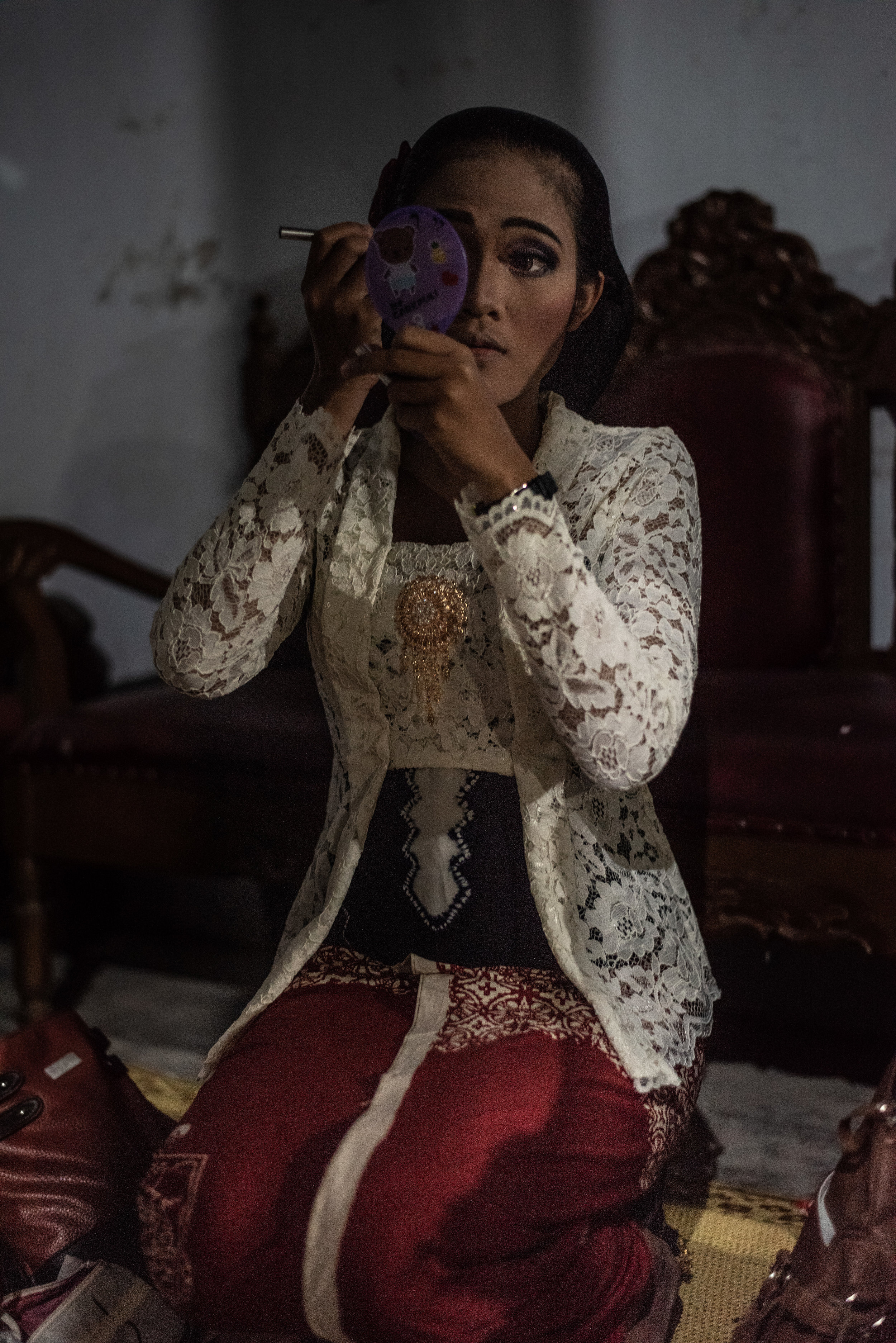 Singer applies make-up before performance
Gamelan maker blows on molten keys
Full gamelan orchestra made to order, usually taking 1-2 months to complete
Performers pray before show
Gamelan maker works machine to polish smaller gongs
Ki Seno moves his kris (ceremonial dagger) to his back, marking the beginning of the Wayang Kulit performance
Enthusiasts gather behind the screen to watch the performance the traditional way
Singers get pampered before their performance
Members of the gamelan orchestra converse and eat before the show
Sweets for children are placed in front of a door during the performance